Tidy Towns Pollinator Award
In 2016, when the Local Authority Heritage Officer and Biodiversity Officer Network offered to establish and fund the special Pollinator Award in the national Tidy Towns competition, the team behind the All-Ireland Pollinator Plan were delighted to support this new way to create awareness of pollinators and increase pollinator-friendly habitats right across the country.
There has been an amazing reaction to this special award and reading about all the achievements and actions taken for pollinators in towns and villages across the country is truly inspirational.
The entries have improved year on year. We would like to thank you sincerely for all you are doing locally to help create a more pollinator-friendly Ireland.
– the Pollinator Plan team
The Local Authority Tidy Towns Pollinator Award 2022
The results of the 2022 Tidy Towns Local Authority Pollinator Award were announced on the 28th October. To find out which towns won, and read about the work they did for pollinators in their community, see the news piece here:
Tidy Towns Pollinator Award winners 2022
The award has a total prize fund of €10,000, including a 'Best Newcomer' Award of €1,000, and is open to all groups participating in the national Tidy Towns competition. The award encourages and rewards Tidy Towns groups for managing towns and villages in a pollinator-friendly way.
The Local Authority Pollinator Award supports the All-Ireland Pollinator Plan and is sponsored and managed by Local Authority Heritage Officers in partnership with the National Biodiversity Data Centre. The deadline for entries is Friday 10th June. For more details contact your Local Authority Heritage Officer.
Find out more in our Spring 2022 newsletter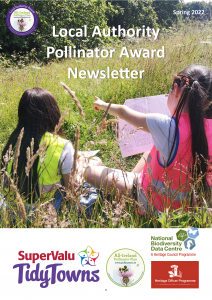 Watch this video to hear from some of the 2021 winners
Local Authority Pollinator Award Prize Fund: €1,000
Overall Winner: €1,000
Best Newcomer: €1,000 
Regional Winner Small Town/Village: 4 winners receive €1,000 each.
Regional Winner Large Town/Urban centre: 4 winners receive €1,000 each.
Background to the Local Authority Pollinator Award
To learn more about some of the wonderful work being carried out by TidyTowns groups around the country, take a look at our newsletters from previous years:
Local Authority Pollinator Awards 2019 Competition Newsletter:
Local Authority Pollinator Awards 2018 Competition Newsletter:
Local Authority Pollinator Awards 2017 Competition Newsletter:
To learn about entries and winners in the past three years of the award, please click on the appropriate tab to the left of this page: 2016, 2017, 2018.
Download our top 10 tips on how to improve your entry for the Pollinator award: Tips on entering Tidy Towns Pollinator Award