Schools
How can Schools help pollinators?
In 2015, bee experts in Ireland came together to produce the All-Ireland Pollinator Plan. We did this because our pollinators, especially our bees, are in trouble. We need bees in order to grow our fruit and veg, and to make sure our countryside has lots of beautiful wildflowers.
Now we need your help to make Ireland a better place for bees and other pollinators. We need you to tell everyone how important bees are. We also need you to make your school and garden a safe place for pollinating insects to live.
To learn how your school an help, download our resources for schools:
| | | |
| --- | --- | --- |
| | | |
| Junior version of the All-Ireland Pollinator Plan | Junior Plan as Gaeilge | How to create your own School Pollinator Plan |
Overview presentation on how secondary schools can get involved with the All-Ireland Pollinator Plan (pdf). This was delivered to the Irish Science Teachers' Association (ISTA) as a webinar in April 2021. It will be of particular relevance to TY students.
Dr Saorla Kavanagh introduces Ireland's wild bees
This animation explains why bees are important and introduces the All-Ireland Pollinator Plan
Learn about our wild Bumblebees and Solitary bees 
Put your school on the map:
If your school has taken any actions to help pollinators, please add your school to our map:
Presentations for use when teaching about pollination:
Junior Pollinator Plan presentation
How to create a Pollinator Plan for your school Presentation
Presentation for students to present themselves
Quiz to introduce Pollinator Plan
Lesson Plans:
Signage templates: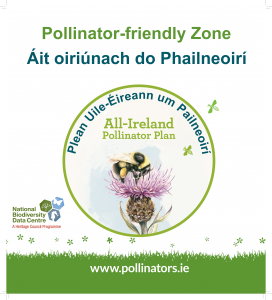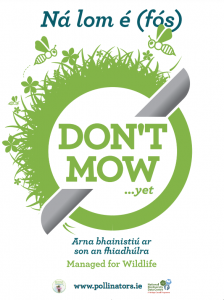 We have signage templates for land 
managed for pollinators.
Download signs here: https://pollinators.ie/resources/signs/ 
Posters:
How to help pollinators month-by-month
Other useful resources:
For other great resources to help you learn about pollinating insects, see:
Polli:nation:
In Northern Ireland 32 schools are taking part in Polli:nation, doing amazing things to support pollinators.
https://www.polli-nation.co.uk/activity/northern-ireland-home-template/
Don't Mow, Let it Grow:
To watch some great animations about pollinating insects and where they live, and how you can help, see:
Busy Flo and Don't Mow, Let it Grow
Pollinator activity sheet created by Waterways Ireland:
Pollinator activity sheet Waterways Ireland