How the AIPP is trying to address this issue
Sometimes scientists and those who work in biodiversity conservation use words or phrases that many people may not be familiar with. If you find a word or phrase you are unfamiliar with, take a look at the wildflower seed pages glossary which provides definitions for some commonly used terms on this part of our website.
April 2022
The issue
We all want to help struggling wild pollinators and other biodiversity. And surely the best way to do that is to buy a packet of wildflower seeds and get sowing? You might be surprised to hear that the answer is 'no'. 
Biodiversity is in crisis. Tackling this requires transformative change in how we manage our entire landscape to maintain a large and healthy network of habitats to support biodiversity. For many of these declining natural and semi-natural habitats (e.g., sand dunes, native woodland, bog), it is difficult to help as an individual. However, there are two that many of us can help return. These are native flowering hedgerows and semi-natural grassland meadows.
Gradually returning semi-natural grasslands through changing management is the 'Don't mow, let it grow' approach advocated by the All-Ireland Pollinator Plan. Many people want to do their bit to help, and – understandably – believe that the best or quickest way to return these meadows is to plant a wildflower seed mix. This is not the case.
A collective approach: to ensure we tackle this issue positively, we have been working with a wide group of biodiversity experts. We want to increase awareness of the impact of commercial wildflower seed mixes across the public and private sectors, discourage the use of these mixes in inappropriate settings, and provide alternative, positive actions for biodiversity.
The Problem with some Commercial Wildflower Seed Mixes
Commercial wildflower seed mixes are packets of assorted wildflower seeds that can be bought commercially. They typically contain a wide range of different flower species which may or may not be native to Ireland, or of Irish origin. They are easily available, affordable, and are widely used by public and private bodies and individuals across the island of Ireland.
In some cases, natural areas are being sprayed with herbicide to kill off the vegetation already present and then sowed with commercial wildflower seed mixes in the misunderstanding that this is a good action to take for biodiversity. Despite good intentions, this can be a double negative for nature.
If used in the wider landscape, they can be harmful to our biodiversity
In 2021, the Dublin Naturalists' Field Club produced an excellent position paper outlining the detrimental impact commercial wildflower seed mixes can have on our biodiversity: https://dnfc.net/wp-content/uploads/2021/07/Wildflower-Mixtures-LR.pdf
They risk introducing invasive species and polluting the genetics of our native flora
The commercial wildflower seed mix industry is not regulated, so there is no control over which species are included, or their origin. In Ireland, it is a relatively new industry, and one which has grown exponentially in recent years as consumer interest in helping biodiversity has grown. The mixes can accidentally introduce invasive species that could be devastating to Irish biodiversity and agriculture. They can also introduce genetic material from other countries that is detrimental to the beautiful and diverse native flora that is adapted to Ireland and that has been supporting our insects for thousands of years.
Gardening nature is not a solution to the biodiversity crisis
A recent MSc study (2021) in Trinity College Dublin grew out a range of wildflower seed mixes purchased in Ireland. It revealed that most packets of wildflower seeds will result in an 'ornamental meadow': colourful flowers that do not grow together naturally and have no resemblance to a semi-natural Irish meadow. They may include species that are not native to Ireland, may not be of Irish origin, and may not be beneficial to Irish pollinators or to biodiversity. Growing these mixes creates a colourful flower bed, it does not help sustainably return an Irish habitat.
Wildflower seed mixes can be costly and difficult to grow
Wildflower seed mixes can be costly and difficult to grow successfully. They typically require significant ground preparation before sowing. They may look attractive in the first year, before then largely disappearing in subsequent years (depending on the original mix and the ongoing management).  In many cases, the process must be repeated each year, making it one of the less sustainable garden actions to help flower-visiting insects.
The solution
Allow native meadow habitats to naturally return – Don't sow, let it grow
There is a biodiversity action that can be taken as an alternative to planting commercial wildflower seed mixes. This is allowing natural regeneration of semi-natural grasslands by creating biodiversity meadows and margins.
If you want to create a biodiversity meadow or margin, the best thing to do is 'don't sow, let it grow.' It takes time, and doing very little might feel counter-intuitive, but slowly you can turn a patch of grass into a meadow. By simply reducing mowing, beautiful wildflowers like Dandelion, Clovers, Self-heal and Bird's-foot-trefoil will naturally pop-up year after year at no cost. These common flowers have become adapted to our climate and geology and have been growing in in our landscape alongside pollinators for thousands of years. They provide the nutrients our insects need, not to mention the myriad other biodiversity (e.g., fungi) that go about their business largely unseen by us.
By returning pockets of these natural biodiversity meadows and margins, no matter how small, the collective benefit to wildlife is enormous. Returning this important habitat is a long-term and sustainable solution to the biodiversity crisis.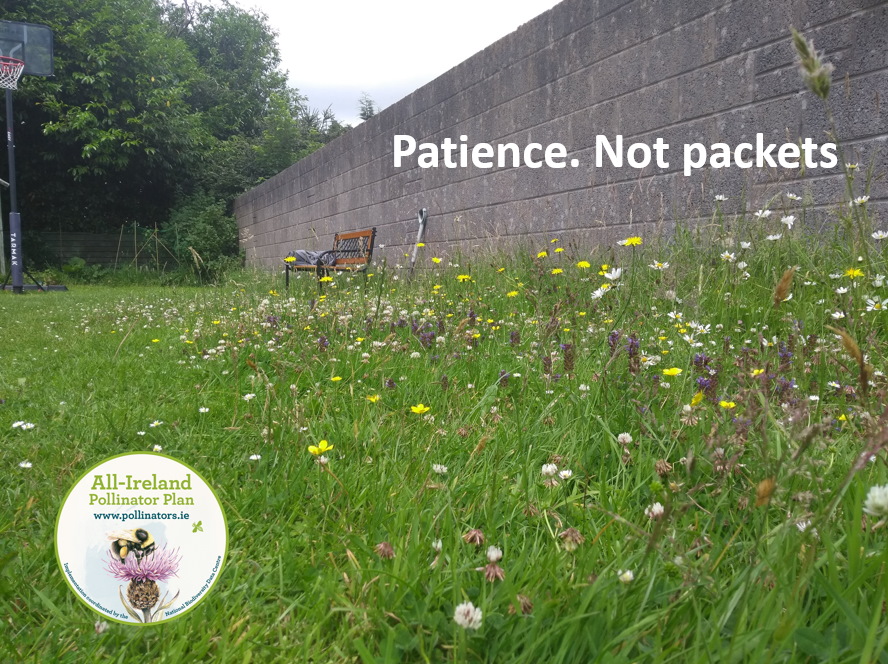 Carefully choose between garden actions and biodiversity actions
It is important to distinguish between garden actions -planting actions that can be taken in gardens and parks to support flower-visiting insects, and biodiversity actions. Planting commercial wildflower seed mixes is a garden action that will result in an ornamental meadow. If the mix contains pollen and nectar-rich flowers, it may benefit flower-visiting insects. It should be restricted to private land and never be used in the wider landscape. It is one of several garden actions that can be taken to support biodiversity. Others include planting pollinator-friendly garden bulbs, perennials, trees and shrubs. If you decide to plant a wildflower seed mix in your garden, choose a native origin wildflower seed mix from a reputable supplier. The European Native Seed Producers Association has a code of conduct that suppliers should adhere to.
How the AIPP will address this issue going forward?
The AIPP will continue to advocate the 'Don't sow, let it grow' approach to encourage as many biodiversity meadows and margins to be returned to our landscape as possible.
By working with colleagues across other organisations, we will try to do more to celebrate semi-natural grasslands and biodiversity meadows and margins: promoting awareness of their particular benefit to nature, and encouraging their protection, enhancement and increase as a biodiversity action. This is particularly important as there is a perception of certain plants as 'weeds' and of certain habitats as less interesting. We hope to help re-calibrate people's perceptions – sometimes the ordinary is actually what's best for nature.
Over the coming years we will:
Communicate to all sectors on this issue
Engage with commercial seed companies to offer advice and progress solutions.
Continue to use social media campaigns to demonstrate how easy it is to allow sei-natural grasslands to naturally regenerate by creating biodiversity meadows and margins #LetDandelionsBee; #NoMowMay; #PlantsToCelebrate
Share positive stories and examples of good biodiversity meadows and margins from across all sectors
Develop a new evidence-based guideline with more detailed and technical advice for those creating and managing biodiversity meadows and margins
Provide more signage and information board templates for use within biodiversity meadows and margins
Continue to manage expectations around restoring semi-natural grassland
Share positive solutions and innovations around equipment to manage large biodiversity meadows or margins
Share positive solutions and innovations around the disposal/use of grass (hay) from large biodiversity meadows or margins.
Consider providing training courses in biodiversity meadow and margin management
Raise awareness of how to collect and use small amounts of local wildflower seed from pollinator-friendly native plants to improve the diversity of existing biodiversity meadows and margins
Share information on alternatives for larger-scale semi-natural grassland restoration (green hay exchange, brush harvesting of seed)
Continue to liaise with the research community to drive the evidence base on this area and ensure we are always providing the right advice within the AIPP