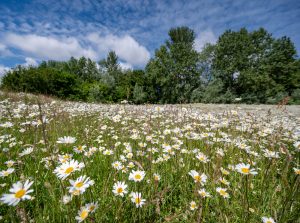 Dog Daisies, Tymon Park
South Dublin County Council (SDCC) manages approximately 1,500 hectares of parks (54 parks) and open spaces. SDCC signed up as a partner to the All-Ireland Pollinator Plan in 2019 and have implemented a reduced mowing regime over the past number of years. This is a new way in how local authorities manage grassland – changing from fortnightly mowing to mowing once or twice a year on a seasonal basis. This reduced level of grass cutting allows wildflowers to flower and set seed, providing additional opportunities for pollinating insects, which are currently challenged by landscape change of use, habitat loss and chemical usage.
Wildflowers Meadows – Tymon Park

In 2018, SDCC began formally mapping and identifying wildflowers meadow locations to support pollinators on public land. SDCC staff believed that as landscape managers, wildflowers meadows should be managed in a formal way. SDCC Public Realm staff and the Heritage Officer visited each site to identify any potential botanical and pollinator value. After the 2018/2019 assessment, SDCC had 90ha of natural meadows in parks and open spaces, this has increased to 139ha in 2021. These actions required copious planning, consultation and coordination with internal and external stakeholders as well as budgetary planning.
Example of GIS Mapping in Tymon Park and across the county
In 2019/2020, SDCC Public Realm secured addition funding to allow meadow mowing, including cut, lift and removal and treated in accordance with the Waste Management Act 1996. The by-product (meadow grass) is then treated in an environmentally sensitive way, as it is fed to cattle on the foothills of the Dublin mountains during the winter months. Collecting the meadow grass depletes the soil of nitrogen, allowing natural wildflowers to grow and establish over the following years. This is a carefully managed and sustainable way of returning biodiversity to our natural depleted land, while promoting wildflower habitats and food sources for pollinators. 
South Dublin County Council have carried out audits and insect surveys on wildflower meadows. These surveys have displayed a wide variety of insect life, in some cases quite rare species have been discovered. Allowing wildflower meadows to flourish and flower has become popular with citizens of South Dublin.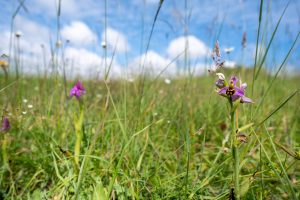 Bee orchids. Photos courtesy of Ben Ryan
Over the last year, SDCC ran a social media campaign to promote pollinators and the actions SDCC have taken to help pollinators. For instance, in the past four months, 64 tweets resulted in a total of 176,310 responses from members of the public. On the ground, we have used SDCC 'Managed for Wildlife' & 'Let's Create a Buzz' signs to assist with education on the councils' actions, and the results have been positive to date. If people want more information on pollinators, they can scan the QR code on signs. This directs people back to SDCC web page, where they can view our local pollinator action plan and video.
SDCC pollinator signage and QR code

In addition to the above, SDCC have worked with various local community groups, residents' associations and schools to help raise awareness of the All-Ireland Pollinator Plan and small actions they can take to make their local area more pollinator friendly. Local citizens in general support the initiative and requests have been received for further areas to be managed for pollinators. SDCC enables customer feedback and proposals through the Council's 'Fix your street' app.
In April 2021, South Dublin County Council launched the SDCC Pollinator Action Plan 2021-2025 (https://www.sdcc.ie/en/services/environment/pollinators/sdcc-pollination-action-plan.pdf). The Pollinator Action Plan is based on the All-Ireland Pollinator Plan and sets out a broad range of actions that South Dublin County Council have committed to over the next five years.
The local Pollinator Action Plan by SDCC represents the Council's commitment to promoting habitats and food sources for pollinators in this county and addressing the decline in our bee populations. 
Pyramidal Orchid

To support our Pollinator Action Plan launch, South Dublin County Council released a video that explains why this work is being undertaken (https://www.youtube.com/watch?v=mCLZArN1oTY).  The video contains images of parks right across South Dublin County.  In all areas, South Dublin County Council has had huge support from Councillors and the public for pollinator-friendly initiatives.   
For many years, South Dublin County Council has been taking actions to support pollinators on public land. We have also worked with local community groups, residents' associations, and schools to help raise awareness of the All-Ireland Pollinator Plan. Alongside the Council's work, the community also have a part to play to ensure the success and positive impact of implementing the actions listed in this plan, and we thank them for their ongoing support.
Lucan Demesne meadows

In addition to the great work that has been undertaken by our operations staff, over 290,000 bulbs were planted throughout the county in autumn 2020, and 85% of the bulb mix are pollinator friendly. Daffodils are interplanted with pollinator-friendly bulbs such as Cammasia and Alliums. Daffodils mark the locations of the pollinator-friendly bulbs and reduce the likelihood of mowing the spring bulbs as they come up in April/May. Daffodil planting allows long grass, wildflowers/dandelions, etc to grow, which acts as a habitat hub, food sources and ecological corridors for bees and other pollinators.  
Cammasia flowering at a focal point of the county

Looking to the future, we, as an organisation, are really keen to expand the number of meadows, and we are currently scoping out the requirements for a trial of a series of short meadows, with six-week cuts, across the County.  This is for areas such as residential open spaces and along road verges, and it has the potential to vastly expand the areas we could manage for increased pollinator activity.  
We hope to update the All-Ireland Pollinator Plan in the next year with findings from this trial.
– Brendan Redmond, Executive Parks Superintendent, South Dublin County Council