Less than six-months after the arrival of the Ivy Bee, another new solitary bee species has been spotted in Ireland. 
The Hairy-footed Flower Bee (Anthophora plumipes) has migrated from Britain to set up home in Ireland for the first time. The first sighting was made by Mary Molloy in her garden in Harold's Cross, Dublin on the 27th March 2022. A photograph was sent to the National Biodiversity Data Centre where it was confirmed by Dr Úna FitzPatrick. Both a male and a female were observed. 
Mary Molloy said: "We're really happy that the Hairy-footed Flower Bees have decided to make their home in Harold's Cross. HXgrow is a group of neighbours who have been working together planting for biodiversity over the last couple of years. It would be nice to think that the bees appreciated the effort. They are beautiful little bees and hopefully they are first of many." 
About the Hairy-Footed Flower Bee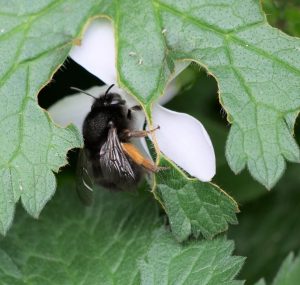 Ireland now has 100 different wild bee species, including 21 different bumblebee species, and 79 different solitary species.  
The Hairy-footed Flower Bee is a large, bumblebee-sized species. It is extremely widespread on continental Europe and is common in much of England and Wales, especially in villages, towns, and cities. Typically, new bee species are first found on the east coast of Ireland, when there are sufficiently large populations on the west coast of Britain and the weather conditions are favourable for migration.  
This species is one of the first solitary bees to emerge in spring, coming out of hibernation in late February or early March. Males emerge first and after about two weeks, the first females will be spotted. The males and females are very different to each other. The female resembles a small black bumblebee with orange hairs on the hind leg. In Britain it shows a preference for Lungwort, but also visits plants like Comfrey, Dead-nettle and Primrose. Males have light brown/ginger hairs all over their body and cream markings on their face. They also have distinctive long orange hairs on their middle legs and feet, which is where the species gets its name. It can resemble the Common carder bumblebee, but their quick darting flight motion is a good way to tell them apart from bumblebees. 
In Britain, the Hairy-footed Flower Bee is frequently found in parks, gardens, roadside verges and in flower-rich habitats such as south facing coastal cliffs. It nests in vertical, sunny faces, such as cliffs, quarry sides, old walls and soft mortar of younger walls. More rarely, it will excavate a burrow in the ground.  
All-Ireland Pollinator Plan 
Unfortunately, Irish pollinators are declining with one third of wild bee species known to be threatened with extinction from the island. To tackle the problem, the All-Ireland Pollinator Plan was established in 2015. "The Pollinator Plan is about making Ireland a place where pollinators can survive and thrive. It is fantastic that the Hairy-footed Flower Bee has naturally arrived, to add to the diversity of our wild pollinators" said Dr Úna FitzPatrick, Senior Ecologist at the National Biodiversity Data Centre and project manager of the Plan.  "We have fantastic teams of volunteers who have become interested in learning about pollinators and helping us drive their conservation by submitting data on what they see. Their skill is evident by how quickly they spot new and unusual things. We are particularly thrilled that this new species was spotted by Mary, as she is part of a group in Harold's Cross who have been proactively making their local area more biodiversity friendly over the last number of years." 
Let us know if you think you've spotted this new species
The Hairy-footed Flower Bee has a single flight period each year. The species is on the wing from early March to late May – there is still plenty of time to keep an eye out for other populations, particularly along the east coast! 
If you think you've spotted this species, please take a photograph, and submit it to the National Biodiversity Data Centre https://records.biodiversityireland.ie/record/solitary-bees