Farmland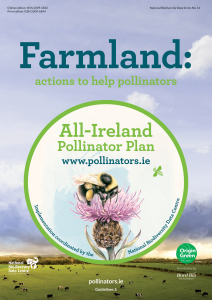 The Farmland Guidelines explain five evidence-based actions to help make farmland more pollinator friendly:
1. Maintain native flowering hedgerows
2. Allow wildflowers to grow around the farm
3. Provide nesting places for wild bees.
4. Minimise artificial fertiliser use
5. Reduce pesticide inputs
Download our 20-page guidelines on how farmland can support pollinators here: Farmland Actions to Help Pollinators
---
Maintaining Healthy Hedgerows
Tipperary Dairy Farmer John Fogarty explains how he approaches hedgerow management.
Hedgerows: Lifelines on Farmland
Tipperary Farmer Sean O'Farrell discusses the mutual benefits of allowing his hedgerows to flower on his farm.
Seasonal actions for pollinators
Spring farmland actions for pollinators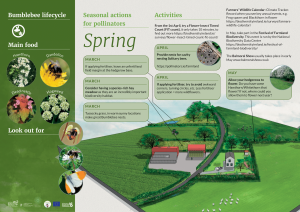 Summer farmland actions for pollinators
Autumn farmland actions for pollinators
Winter farmland actions for pollinators
Other useful Resources:
Where do bees find food on farmland?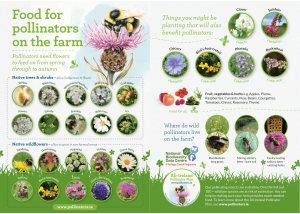 Download 'Food for pollinators on the farm' flyer
---
Research Project:
The National Biodiversity Date Centre's research project 'Protecting Farmland Pollinators', has completed its first phase of fieldwork. It is a five-year, €1.2 million research project, funded under the European Innovation Partnerships (EIP) programme, co-funded by the European Union and the Department of Agriculture, Food and the Marine.
The Protecting Farmland Pollinators project will develop and test a whole-farm pollinator scoring system and identify what management practices on Irish farmland benefit pollinators. The farmland pollinator score is based on the five criteria: 1 Flowering native hedgerows; 2 Pollinator-friendly trees; 3 Low to zero pesticide inputs; 4 Flowering margin of 0.5 to 2 metres around field edge (left untilled or fenced off from livestock); 5 Flowers (e.g. wildflower meadow, flower-rich pasture, cover crop, herbal ley.
To find out more about this project, see https://www.biodiversityireland.ie/projects/protecting-farmland-pollinators/
---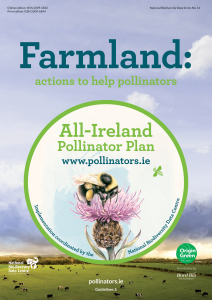 Farmland Actions to Help Pollinators Acknowledgements:
On behalf of the main authors we would like to express our enormous thanks to all those who provided feedback and advice on the development of the Farmland guidelines during the various consultation phases in 2017:
Adam Mantell (Buglife), Aidan Kennedy (Farmer), Aileen Lawson (on behalf of UFU), Alex Copland (on behalf of BirdWatch Ireland), Ali Sheridan (Bord Bia), Andrew Mullins (Bord Bia), Aoibhinn Corrigan (NIEA), Archie Murchie (on behalf of AFBI), Barney O'Sullivan (Farmer), Barry O'Donoghue (NPWS), Brendan Dunford (BurrenLife), Brian Nelson (NPWS), Catherine Bertrand (Butterfly Conservation), Catherine Keena (on behalf of Teagasc), Claire Barnett (RSBP), Claire Carvell (CEH UK), Colman Deely (Farmer), Con Trass (Apple grower), Cormac McCarthy (Waterways Ireland), Daire OHuallachain (Teagasc), Damian McFerran (CEDaR), Dara Stanley (NUIG), David Garrett (on behalf of DAERA), Donal Sheehan (Farmer), Eimear Connery (Teagasc), Erin Jo Tiedeken (previously National Biodiversity Data Centre), Freda Salley (Philip Farrelly & Co), Gary McCarthy (Soft Fruit Growers Association), Gerry Clabby (Fingal County Council), Gerry Ryan (FIBKA), Grace Maher (on behalf of IOFGA), Graeme Campbell (on behalf of CAFRE), Graham Harris (Farmer), Hans Visser (Fingal County Council), Helen Harris (Farmer), Jerome Walsh ( on behalf of DAFM), Joe & Teresa Muldowney (Farmers), John Breen (UL), John Finn (Teagasc), John Fogarty (Farmer), John Harnett (Farmer), John Howard (Sunnyside Fruit), John Joe O'Sullivan (Farmer), John Monahan (Farmer), John P O'Sullivan (Farmer & Advisor), Jonny Greene (Farmer), Joseph Molloy (Farmer), Ken Bradley (DAERA; Environment policy), Kieran Kenny (Teagasc), Liam Lysaght (National Biodiversity Data Centre), Louise McNamara (Teagasc), Lyndon Wortley (on behalf of INIB), Marek Nowakowski (CEH UK), Martin Crowe (Farmer), Mary Montaut (FIBKA), Michael Maloney (Bord Bia), Mick Houlihan (Bord Bia), Mireille & Kim McCall (Farmers), Neil Foulkes (Hedge Laying Association of Ireland), Oliver Crowe (CC Agricultural Consultants Ltd), Pádraic Fogarty (Irish Wildlife Trust), Padraig Casey (Ballyhoura Development Ltd), Padraig Corcoran (Farmer), Patrick McGurn (AranLife), Paul Smith (on behalf of Macra), Reamai Mathers (The Causeway Coast & Glens Heritage Trust), Richard & Eleanor Murphy (Farmers), Richard Brennan (Farmer), Sarah Jane Phelan (Transport Infrastructure Ireland), Susie Hill (on behalf of UBKA), Thomas Farrell (ABP Food Group), Tomas Murray (National Biodiversity Data Centre), Trevor Harris (Farmer), Veronica Santorum (AIPP Steering Group), William O'Halloran (SECAD).
---
USEFUL LINKS
Farming for Nature has produced some useful guides: