Read about the excellent work by Derry City and Strabane District Council to create habitats for pollinators 
Bees are one of the world's most important pollinators for food crops. Across the island of Ireland, 1/3 of our bee species are threatened with extinction, mainly because we have drastically reduced the amount of food (flowers) and safe nesting sites in our landscapes.
To tackle this, Derry City & Strabane District Council have developed a new Pollinator Plan 2021-2025, an action from the Derry & Strabane Green Infrastructure Plan 2019 – 2032. Council's Pollinator Plan is aligned to the All-Ireland Pollinator Plan (AIPP) 2021-2025, to help to deliver several of the objectives and targets of the AIPP. 
Recently, Council has worked on a knowledge exchange project with Causeway Coast & Glens Council, to extend the 'Don't Mow Let It Grow' initiative to the Derry & Strabane District. This will help to deliver the AIPP objective, 'making public land pollinator friendly'. In doing so, Council has created 30 ha of wildflower meadows, across 34 parks and cemetery sites on our estate. This involves allowing natural regeneration of wildflowers from the existing seedbank. Natural wildflowers complete their full cycle of growing, flowering and setting their seeds, to create sustainable wildflower meadows. To allow the wildflowers to flourish the following year, Council has invested in specialist machinery, to cut and lift this grass in late summer, to reduce the fertility and remove thick grasses.
Although, the primary benefit of this change in grassland management is for pollinators, there are secondary benefits. The reduction in grass cutting at these 34 sites, from an average of 15 times cuts a year, to only one cut a year, has reduced our carbon emissions by two tonnes per annum. Also, the natural capital value of the creation of over 30 ha of species rich grassland for pollinators is estimated at £7,200 per annum!
Without the vital work conducted by pollinators, people would have less food choices, so it is vitally important that we help the pollinators survive. The main reason that 1/3 of our bee species are at risk of extinction, is due to habitat loss and fragmentation, from changes to land use. Historically, farmland provided a rich haven for pollinators, but changes in farming practices has resulted in the loss of 97% of meadows between 1930s – 1990. As well as this, wildflowers have been reduced along roadsides, parks and gardens, by mowing and the use of pesticides. It needs to be taken into account that importing bees is not the answer, as they can import pests & diseases, which could kill our native bees on the island of Ireland.
As there are less sources of food & habitats for bee species, we want to create wildlife corridors across the District & across the island, through a nature recovery network. We are creating a pollinator trail, designed so that pollinators are connected with the resources that they rely on and where people can see public accessible land with pollinator friendly planting. 
There is over 9,000 ha of public accessible green space within the District as well as 23 million gardens across the whole of the UK! These green spaces can help reverse the fragmented landscape, to provide a source of food & a home for bees.
We can all play our part in helping the bees. You can help reverse the decline in pollinators in your garden, school or business, by mowing the grass less frequently, leave a strip of unmown lawn for wildflowers to grow & stop using chemicals in your garden. Council has created an animation video to show the benefits of this approach in your garden https://youtu.be/v_x3vJP3n_w.
Pollinators can recover fast, under the right conditions. We can help do this by making our areas more wildlife friendly and by taking simple practical actions. Let's all do one thing to help bring back the bees!
Derry City & Strabane District Council's Pollinator Plan 2021-2025
By Dr Christine Doherty

Derry City and Strabane District Council's Biodiversity Officer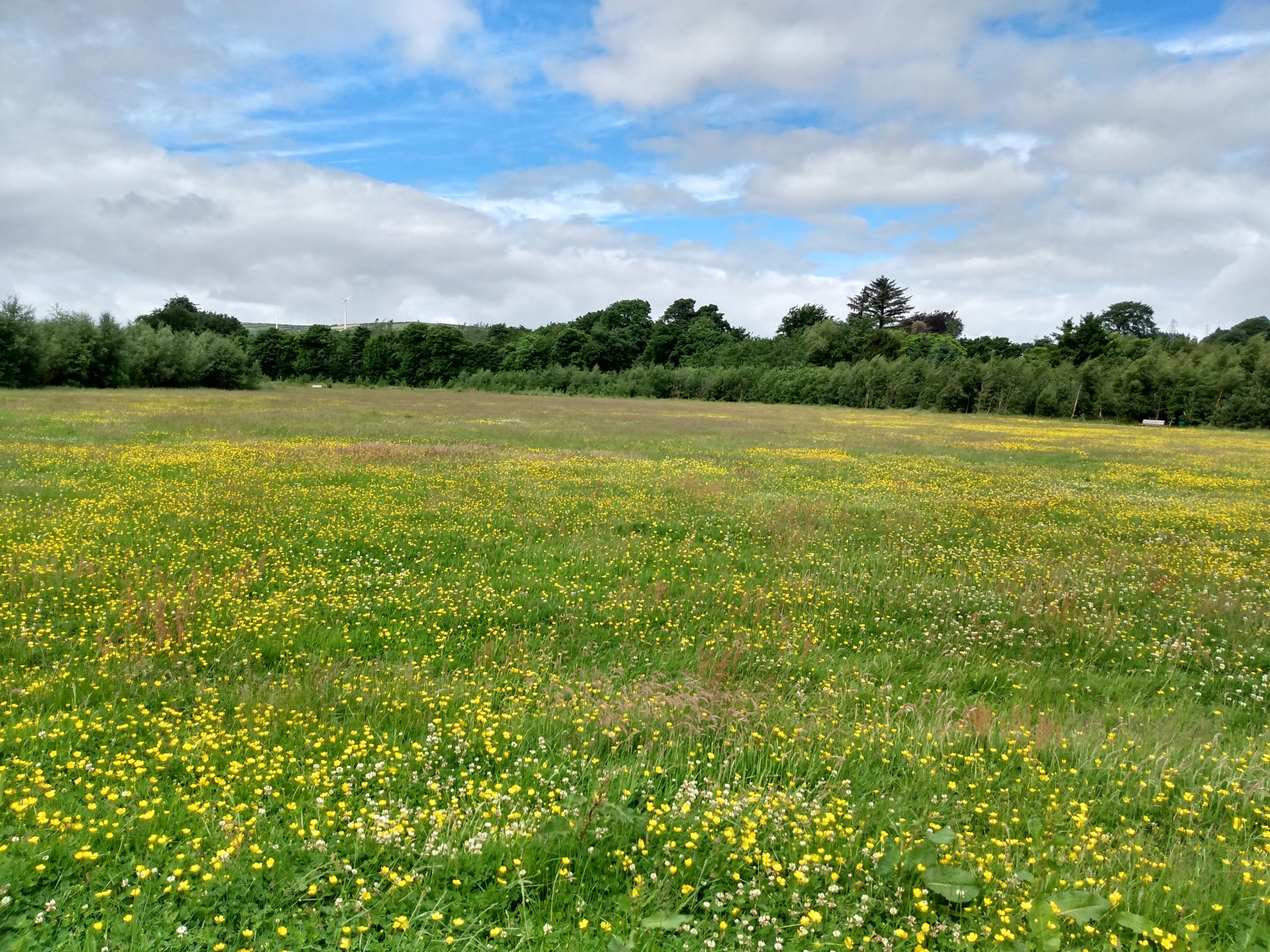 Drumahoe meadow
Amazone cutting the meadow at Culmore