On June 10th, Causeway Hospital, managed by Northern Health & Social Care Trust, became the first healthcare site to officially sign up as a supporter of the All-Ireland Pollinator Plan. 
Nurse at the hospital and co-founder of the hugely successful 'Don't Mow, Let it Grow' project, Donna Rainey, provided this article on Causeway Hospital's actions for pollinators: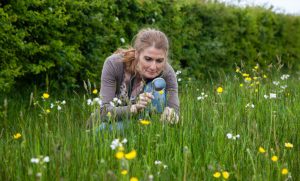 'Don't Mow, Let It Grow' founder and volunteer, Donna Rainey, is passionate about the preservation public grasslands and meadows. She is pictured looking for Orange Tip Butterfly eggs on Cuckooflower.
I am a nurse in Causeway Hospital in Coleraine. There are extensive grounds around the hospital and much of the area is suitable for meadow. I discussed this with Mr Bamber McKay, Grounds Manager. It was decided to set aside areas to only mow each Autumn, and where all the cuttings would be removed. The results have been stunning. Many species of butterflies, moths, bumblebees and hoverflies frequent the meadows.
Birds and even hedgehogs enjoy the bountiful supply of food. A population of Marsh Helleborine orchids were found in the large wet meadow several years ago. This year a large population of Common wintergreen was discovered under hedging in the staff carpark.
The walk around the grounds is enjoyed by staff, patients, visitors and local residents. There is always something of interest to see. The benefits to physical and mental health for both patients and staff are huge. All hospital grounds should include areas rich in diversity, wildflowers and
native trees.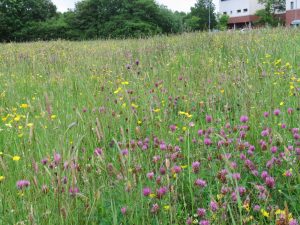 A flock of Goldfinch feasting on autumn seeds in the wildflower meadow at Causeway Hospital. The grounds have been transformed into an oasis for biodiversity, where rare flowers, insects and bird life are thriving.
To find out more about becoming a supporter of the All-Ireland Pollinator Plan, see https://pollinators.ie/partners/supporters/