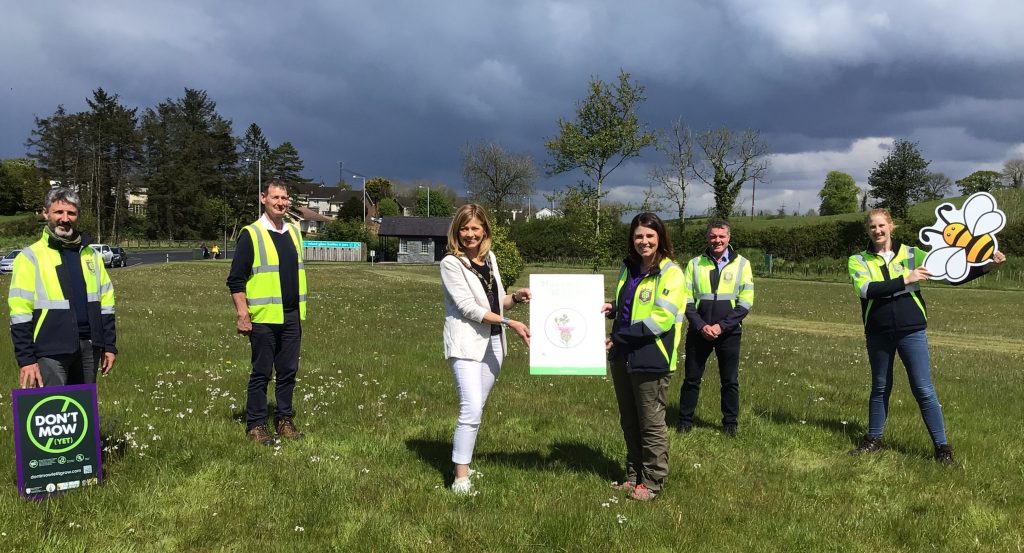 Fermanagh and Omagh District Council has signed up as a partner in the All-Ireland Pollinator Plan, continuing to build on initiatives for pollinators and biodiversity across the Council estate and in partnership with communities and schools across the district.
People depend on pollinators and the important service they provide. Unfortunately, our pollinators are in decline, with almost one-third of the 99 different types of bees on the island of Ireland threatened with extinction. The All-Ireland Pollinator Plan is a strategy aimed at arresting the decline. It is a shared plan of action that aims to help pollinators and improve biodiversity across the island.
The Chair of Fermanagh and Omagh District Council, Councillor Diana Armstrong said: "Fermanagh and Omagh District Council has been championing pollinators through its previous Biodiversity Action Plans and this will remain a key focus in the forthcoming Council Biodiversity Strategy. Just recently, the Council demonstrated its commitment to pollinators when it unanimously agreed to oppose the importation of Italian Honeybees to the United Kingdom and Ireland."
The Council has also been undertaking a significant amount of positive work for pollinators such as our annual 'Trees for Bees' programme, delivering annual pollinator workshops with schools, and its continued commitment to the Don't Mow, Let It Grow initiative, with 35 sites managed as meadows this year, and many more informal sites created across the district, on roadside verges in partnership with Transport NI. The Council is continuing to develop sites and one of our new sites for 2021 is The Commons in Maguiresbridge which is being managed for pollinators, where grass and wildflowers  are left to flourish; heritage apple trees have been planted; and a new mini native woodland created."
Dr Una FitzPatrick, who chairs the Pollinator Plan Steering Group and oversees its implementation, said: "We are delighted that Fermanagh and Omagh District Council has become a formal partner of the All-Ireland Pollinator Plan and agreed to take actions to help our declining bees and other insects. The Council has already taken many positive steps, both through their own actions, and by supporting others in the local community. Their work will help open up pockets of biodiversity-friendly habitat across the southwest of Northern Ireland, and we thank them for leading the way in this."
As it's #NoMowMay and World Bee Day, May 20th, there are so many things gardeners and landowners can do to help support our local bees and pollinators.  Why not leave the grass to grow and you'll be surprised what beauties, such as white and red clover, cuckooflower and more, can pop up.  Embrace the dandelions for the essential food they are for bees, especially in spring, and think about planting more nectar-rich flowers for blooming into summer and autumn. 
For more information on pollinators, actions you can take in your garden, farm or community and Fermanagh and Omagh District Council's plans to support biodiversity, see www.fermanaghomagh.com/biodiversity
To find out more about the All-Ireland Pollinator Plan Council Partnership framework, see https://pollinators.ie/councils/council-partners/