By Kate Chandler, Communities and Engagement Pollinator Officer for the National Biodiversity Data Centre.
On the 12th and 13th of August, Tralee hosted the second ever Wild Bee Festival on the island of Ireland. An annual event coordinated by the National Biodiversity Data Centre, the Wild Bee Festival is a series of walks, talks and workshops for communities to learn about pollinators and how to help them.
In and around Tralee, several organisations have been doing amazing work for pollinators. We were delighted when they agreed to collaborate with us in running the 2023 Festival. Huge thanks to Kerry County Council, Tralee Bay Wetlands Eco & Activity Park, Transition Kerry, Tralee Tidy Towns and the Irish Wildlife Trust (Kerry branch).
How can communities help pollinators?
Despite being the middle of August, the weather was far from summery on the first day of the Festival. Still, a good crowd gathered in the beautiful surroundings of the Tralee Bay Wetlands Eco & Activity Park on Saturday morning.
We opened with the question: 'How can Communities Help Pollinators?' The challenge is real: a third of Ireland's wild bees are under threat of extinction, mainly because of a lack of food and shelter. We rely on these important insects to pollinate our crops and wild plants. It is vital that we take steps to protect them for the benefit of biodiversity, food sustainability, and for their own sake.  
The All-Ireland Pollinator Plan talked us through some evidence-based actions. Simple things like letting Dandelions bloom, mowing every 4-6 weeks instead of every fortnight, or mixing pollinator-friendly plants into summer bedding can make all the difference. A summary of the top ten actions covered in the talk can be found here: Top Ten Ways to Help Pollinators » All-Ireland Pollinator Plan
'Have you ever heard of biodiversity?'
Next, Anne-Marie from Tralee Tidy Towns told us about the group's efforts to raise awareness about biodiversity. 
Working with From the Ground Up and Kerry PPN, the Tidy Towns engaged students from Munster Technological University to survey attitudes to biodiversity in Tralee. What they discovered was fascinating: whilst most people had heard of biodiversity, there was a lack of understanding about what it meant. Certain pollinator-friendly management methods, like letting grass grow longer to help native wildflowers grow, were often unpopular. But when it was explained  to the participants that this was a way of helping pollinators, they became more supportive. 
Because of the findings of their research, Tralee Tidy Towns have decided to focus on education. If more people understand what biodiversity needs, they are more likely to support actions to help it. The group's work has included running a workshop for Tralee MD Councillors about meadow management, and encouraging people to add their areas managed for pollinators to the Actions for Pollinators map.
Connecting fragmented habitats
Finally, Charlie Heasman from Sustainable Skerries spoke about the group's efforts to save the Large Carder Bee in Co. Dublin. Skerries hosted the first ever Wild Bee Festival in 2022, partly in celebration of the work that has been done in the town to protect this rare bee. 
The Large Carder bee is most often found in coastal areas with flower-rich dunes, machair or grasslands. Uniquely in Ireland, it can be found in urban environments, particularly in areas where there are large meadows in parks. It was first spotted in Skerries in 2019, and since then the tireless efforts of the community have seen it spread to different locations in the town. 
Charlie told us how one of their key objectives is to connect the bee's fragmented habitats. By working with Fingal County Council to reduce mowing on roadside verges, and encourage the bee's preferred food source; Kidney vetch, the Large Carder Bee is continuing to gain ground in Skerries. 
Wetlands and willow sculptures
In the afternoon, half of us stayed inside and learned about identifying bumblebees and how to help track their numbers in the National Biodiversity Data Centre's Bumblebee Monitoring Scheme. The other half pulled on wet weather gear for a guided walk around the Tralee Bay Wetlands centre to see examples of their work for biodiversity. 
An abundance of impressive work has taken place at the centre since it opened to the public in 2013. The site is a microcosm of the adjoining Tralee Bay Wetlands nature reserve, which is a Special Area of Conservation, and a Natura 2000 site. 
Alan Balfe, Wildlife and Education Officer for the centre, and Niamh Ní Dhúill of Transition Kerry explained the fantastic work they have done on the site for pollinators and biodiversity. Examples include the new willow sculpture, which when in flower will provide vital food for queen bumblebees emerging from hibernation, and native tree planting in collaboration with local groups.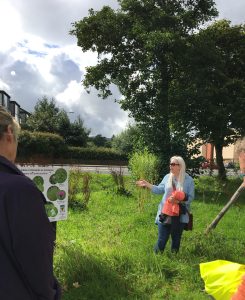 Tralee's ecological corridors
If we were brimming with ideas on Saturday, Sunday left us buzzing. In the morning we had the choice between a Meadow Management and Seed Collecting Workshop with the National Biodiversity Data Centre, and joining Niamh of Transition Kerry, Anne-Marie from Tralee Tidy Towns and Ger Scollard from the Irish Wildlife Trust (Kerry Branch) on an Ecological Corridor walk around the town.
Fortunately, the weather was far kinder that day, and a large group of us enjoyed a long and fascinating ramble around Tralee. We stopped at various places along the way, including the community garden and orchard in Tralee Town Park, and reduced mowing areas full of native wildflowers.
It's obvious that a lot of careful thought and planning has gone into understanding the biodiversity in each space. The result is an ecological corridor that stretches from the nature reserve at Tralee Bay right into the town. It is an excellent example of how connecting habitats can create valuable stepping stones for nature. This does not mean that the needs of humans are forgotten. The work in Tralee proves that managing our communities for biodiversity can benefit pollinators and people.
Everything has its part to play
After a delicious lunch in the centre's Lakeside Café, we climbed the iconic viewing tower with its panoramic view of Tralee Bay and the surrounding mountains. The weekend had flown by. As we looked out at the breathtaking view, we had the chance to reflect on how this unique place fits into its wider landscape, and how we can connect the dots in our own communities to create a network of habitats where pollinators can survive and thrive.
Heading back home, I reflected on the two days in Tralee – the conversations, stories, and new connections that had been made. I remembered something Charlie Heasman said in his talk on the Large Carder Bee:
"You would no more want your house wired by a plumber than you would want a chippy doing your plastering. It's exactly the same in nature – everything has its part to play."
Charlie's right: everything and everyone has their part to play. Just like the Large Carder Bee we are part of an ecosystem, occupying a unique niche, and gifted with a 'particular set of skills'. Whether it's joining a community wildlife initiative, taking part in No Mow May, planting a pot of Snowdrops, or just spreading the word, we can all help turn the tide for pollinators.
What we're doing is working. We just need to do it more
At a time when the biodiversity and climate crises loom larger than ever, it's easy to feel overwhelmed by the scale of the challenges we face. We have so far to go, and our individual efforts can feel like a drop in the ocean. Events like the Wild Bee Festival give us hope. By bringing people together, and igniting conversations that inspire action, we are reminded that together we have the power to drive change.
It's true that across the island of Ireland, wild bees are still in decline. This sobering fact inspired the creation of the All-Ireland Pollinator Plan in 2015. But it is also true that, in recent years, we have seen some local populations grow. This has happened in cities, towns, villages – communities where deliberate action has been taken to help them.
This is an encouraging sign: what we're doing is working. We just need to do it more. 
We're so thankful to everyone who made the 2023 Wild Bee Festival possible. The 2024 Festival can't come soon enough. Watch this space… it might be coming to a town near you.
Kate Chandler started as Communities and Engagement Pollinator Officer with the National Biodiversity Data Centre in 2022 to support and oversee the local authority and local community actions in the All-Ireland Pollinator Plan.
Kate has a background in community engagement and event programming and has worked and volunteered in the heritage and conservation sector in Ireland and the UK.
Find out more:
Community Actions to Help Pollinators
Top Ten Ways to Help Pollinators
Tralee Bay Wetlands Eco & Activity Park
Irish Wildlife Trust (Kerry branch)
Be the first to hear about the latest news and opportunities with the All-Ireland Pollinator Plan. Click here to subscribe to our monthly newsletter.