Businesses
Pollinator Plan (AIPP) – an entry-level into biodiversity on any site
We all depend on the important services provided by pollinating insects. Unfortunately our pollinators are catastrophic decline. This Plan of action provides a basis upon which we can reverse this trend.
HOW TO SIGN UP
1.  SIGN & SEND
(i) Sign the 'Framework for Businesses'
Framework for Businesses (word version) |||| Framework for Business (pdf version)
(ii) Send the Framework, your logo AND registration-confirmation on 'Actions for Pollinators' (data mapping portal) by email to [email protected]
In becoming a business supporter you agree to carry out at least ONE pollinator-friendly action within the first year of signing up, and plan to carry out TWO additional actions within the following five years. On receiving your signed framework, we will list you as a Business supporter on the website and send you a special Business supporter logo and Certificate of Participation for display.
2.  REGISTER YOUR SITE/HQ on 'Actions for Pollinators' – data mapping portal
As part of the sign-up process begin mapping your site/HQ and any pollinator-friendly actions.
This provides the National Biodiversity Data Centre with data to shape evidence-based guidelines.

REPORTING: we will require you to submit a simple, mandatory 250-word pollinator-actions report by 30 September for the Annual Review. Published alongside the Annual Review will be an Excel download of your

mapped 'Actions for Pollinators' (1 January – 31 December) in any given year. Please ensure you keep these updated.
https://pollinators.biodiversityireland.ie
3.  REVIEW FAQs & DOWNLOAD Guidelines 
FAQS for Business » All-Ireland Pollinator Plan (pollinators.ie) – review a snapshot of the simplicity of the Plan.
Businesses: actions to help pollinators
Businesses: Technical Appendix  
These guidelines are currently being updated to reflect the new phase of the Plan 2021-2025.
4.  LET'S GO!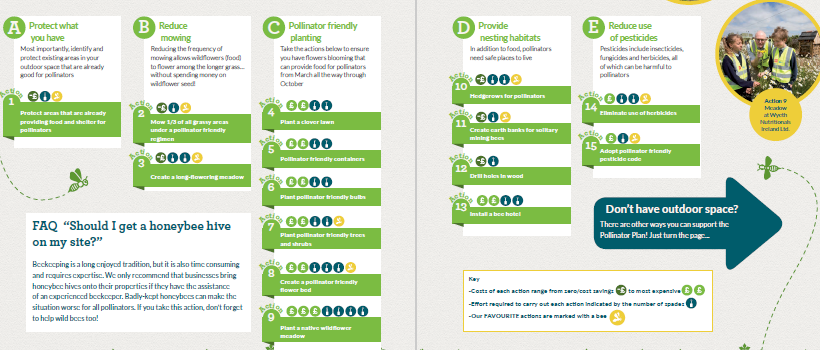 5.  REMEMBER
Wildflower Seed – to sow/scatter (gift/sponsor) is NOT a biodiversity action. It is a horticultural action. READ MORE HERE
Wildflower seed mixes (bulk/ seed packets/ bee bombs i.e. bright/multi-coloured) are NOT considered helpful to the island's landscape.

Many are

 non-native seed and may contain invasive species such as Black Grass – potentially devastating for our agricultural land.
Native wildflower seed may contain a high percentage of annuals and will therefore need re-sown next year.
The All-Ireland Pollinator recommends allowing wildflowers to grow naturally (NB reduce soil fertility by removing grass cuttings allows wildflowers to grow).
To create natural wildflower areas choose a specific mowing regime. REMEMBER to cut and lift the cuttings thereby reducing soil fertility and allowing our native wildflowers to grow naturally.
Corporate Gifts: please think of an alternative option (e.g. pollinator friendly herbs or bulbs) if you are seeking to gift to staff/suppliers/guests/customers.
Hobby Honeybee hives – this is NOT a biodiversity action
There is one Honeybee species, a managed pollinator, and NOT under threat on this island.
Therefore, honeybee hives are NOT considered a biodiversity action as part of the All-Ireland Pollinator Plan.
Increased numbers of honeybees may create competition for food in certain areas for wild bees. READ MORE HERE
Wonderful as a hobby in small numbers. If you are thinking of hives please seek expert advice from your local beekeeping association.
Why sign up?
Benefits of becoming a Business Supporter of the Pollinator Plan:
A demonstration of your sustainability/biodiversity credentials to consumers and customers.
Helping ensure the reliability of supply chains dependent on animal pollinated crops.
Flexible options for fulfilling Environmental Management Systems (e.g. ISO 14001:2015).
A framework to support ESG/Corporate Social Responsibility objectives.
Co-ordination with Bord Bía's Origin Green programme. Pollinator-friendly actions count towards the 'Biodiversity Element' of Key Target Areas (optional).
RESOURCES:
Need free, print-ready, downloadable signage? Visit the Resources page
Thanks to Business in the Community Ireland and Bord Bia's Origin Green programme for collaborating on the Business Guidelines.