Businesses
How Businesses can support the Pollinator Plan
We all depend on the important services provided by pollinating insects. Unfortunately our pollinators are in decline, and the problem is serious. Now we are asking businesses across the island to support the All-Ireland Pollinator Plan.
To sign up as a Business Supporter, follow these simple steps:
1.  Download our guidelines    Businesses: actions to help pollinators
2.  Send us your signed copy of the 'Framework for Businesses' (page 2 of the business guidelines) by email or post.
3.  Use the flow chart on pages 4-6 to decide what pollinator-friendly actions are right for your company.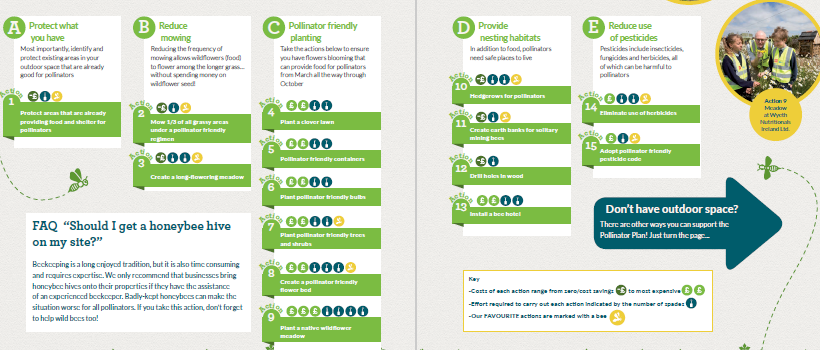 4.  Sign Up to 'Actions for Pollinators', our online mapping system to register your site and gain recognition for becoming a Business Supporter and your future pollinator-friendly actions, so we can see the build-up of pollinator resources in the landscape.
https://pollinators.biodiversityireland.ie
We will then add you to our Business supporters list on our website and send you a special Business supporter logo and Certificate of Participation for display.
Benefits of becoming a Business Supporter of the Pollinator Plan:
A demonstration of your sustainability credentials to consumers and customers
Helping ensure the reliability of supply chains dependent on animal pollinated crops
Flexible options for fulfilling Environmental Management Systems (e.g. ISO 14001:2015)
A framework to support Corporate Social Responsibility objectives
Coordination with Bord Bía's Origin Green programme. Pollinator-friendly actions count towards the 'Biodiversity Element' of Key Target Area, 'Manufacturing Processes'
Suitable for: All employees of any business on the island of Ireland
The first annual review (2018) gives an update of the actions each business is taking to support the AIPP: AIPP Business Supporters Annual Review 2018
Business Supporters of the All-Ireland Pollinator Plan:

Abbott Diabetes Care Ireland
ABP Food Group
Accenture
Acheson & Glover
Adare Manor Resort
AIB
Airmid Natural Irish Skincare
Allergan Pharmaceuticals Ireland
An Óige – Irish Youth Hostel Association
Anovocare Nursing Home
Ard na Gaoithe B&B
Ardenode Stud
Arlington Lodge Suites
Arrabawn Co-operative Ltd.
Arvato SCM Ireland Ltd.
Ash Ecology and Environmental Ltd
Astellas Ireland Ltd
Balfour Beatty plc
Ballymaloe Cookery School
Ballymaloe Foods
Bandon Co-Op
Beeactiv Ltd.
Bee Green Ireland
Belfast Zoological Gardens
Bí Urban
Blanchardstown Shopping Centre
Blarney Castle Estate & Gardens
Bold Puppy
Boortmalt
Bumblebee Flower Farm
Buttercup Micro Farm
Caherbeg Free Range Pork Ltd.
Cairn Homes
Carbery Food Ingredients
Cathal O'Meara Landscape Architect
Celtic Anglian Water Ltd
Claremorris Free Range Eggs
Clinic na gCapall
Clondanagh Cottage & Farm on the Lake

Conroy Crowe Kelly Architects and Urban Designers

Cool Planet Experience
Country Crest
Dawn Farm Foods
Dawn Meats Carroll's Cross
Deaton Lysaght Architects
DePuy Synthes Ireland
Down Business Centre
Doyle Organic Dairy Farm
Dublin Airport
Dundrum Town Centre
Ecoseeds
Elavon
Elmpark Green
Encirc Glass
Enniscorthy Enterprise & Technology Centre
Envirico
Facebook Data Centre Clonee
Fairyhouse Steel
Faith Wilson Ecological Consultant 
Farmhand Ltd
Finnegan's Farm
Folens Publishers
Fota Island Resort
FP McCann Ltd.
Fruit Hill Farm
GAA National Games Development Centre
Gannon Homes
Genovese Foods
Glanbia Consumer Foods
Gle

nisk

Granville EcoPark Limited

Grantstown Nurseries Ltd
Griffins Garden Centre
GUI National Golf Academy
Gunn Lennon Fabrications Ltd
Hawthorn Nurseries & Landscaping Ltd
Horticulture Consultants Ireland Ltd.

ICON plc

Intel

Irish Country Meats Camolin & Navan

Irish D

istillers Ltd.
Irish National Stud & Gardens
Irish Register of Herbalists
Janssen Supply Chain Ireland
JLL Ireland Real Estate
John Doyle Funeral Director & Publican
KARE
Kia Ora Mini Farm Ltd.
Kilsaran International
Kinahan's Irish Whiskey Ltd.
Kinsale Mead Co.
KRA Renewables
KSG Catering Ltd.
Landmark Designs Ltd.
Leinster Honey
Lidl Ireland
Limerick Self Storage
Little Green Growers, Fiáin organic farm
Lottie Dolls (Arklu)*
Machado Men's Grooming
McAuliffe Pig Farms
McAuliffe Trucking Ltd.
McCormack Family Farms
McGill Environmental Systems
Meade Potato Company
Merit Medical Ireland Ltd.
Michelle Delaney Herbalist & Aromatherapist
Millbee Studios
Milverton Landscapes
Mo Bhia Duit
Molex Ireland Ltd.
Mr. Jeffares Blackcurrants
Mrs. C's Herbs and Candles
Newbridge Foods Ltd.
Newgrange Gold Ltd.
Niks Tea Limited
Novokem
O'Donnell Furniture Makers
O'Neills Dry Cure Bacon Co.
Ollys Farm
Peter Cuthbert Horticultural Services
Portmagee Distilling & Brewing Company Ltd.

Portsalon Luxury Camping

Pritchitts A Lakeland Dairies Company
Quinn Building Products
Quinn Packaging
Recordati Ireland Limited

Relaxing Garden
Riverstown Family Practice, Doctors
Rocker Organic Farm
Ronan Mac Diarmada & Associates Ltd.
RTÉ
SAP Landscapes
Schram Plants Ltd., Wholesale Nurseries
Secret Valley Wildlife Park
Siemens Healthcare Diagnostics Manufacturing Ltd.
Shines Seafood
SSE Onshore Wind Generation
St Mullins Honey
Sweeney Landscape Design
Tang cafes
Teva Pharmaceuticals
The Apple Farm
The Lismore Food Company
The Rediscovery Centre
Tipperary Distillery
Triall Teoranta
Urru Culinary Store
Voxpro – powered by Telus
Waterford Oysters
Wexford Preserves
Wyeth Nutritional Ireland
Young Nurseries
---
Intel's 'Biodiversity Meadow'
OTHER RESOURCES:

Download our Technical Appendix for step-by-step instructions and top tips. It includes photos, planting suggestions and rough costings to help you carry out your pollinator-friendly actions.
Is your outdoor space managed by a contractor? We've created a pollinator-friendly planting code which you can provide to professional contractors or landscapers. It contains extensive planting lists for bedding (annuals, perennials), shrubs and trees, as well as a copy of our Pollinator-friendly Pesticide Code.
Visit our Resources page to find presentations, posters, How-to-guides, and signage templates.
---
Thanks to Business in the Community Ireland and Bord Bia's Origin Green programme for collaborating on the Business Guidelines.