Businesses
How Businesses can support the Pollinator Plan
We all depend on the important services provided by pollinating insects. Unfortunately our pollinators are in decline, and the problem is serious. Now we are asking businesses across the island to support the All-Ireland Pollinator Plan.
To sign up as a Business Supporter, follow these simple steps:
1.  Download our guidelines    
Businesses: actions to help pollinators
Businesses: Technical Appendix  
2. Send us your signed copy of the 'Framework for Businesses' by email to [email protected]
Framework for Businesses (word version)
Framework for Business (pdf version)
In becoming a business supporter you agree to carry out at least one pollinator-friendly action within the first year of signing up, and plan to carry out two more additional actions within the following five years. The first version of the Plan covers 2015-2020 and a new version has been developed for 2021-2025. The business framework will continue seamlessly from the first Plan into the second.
On receiving your signed framework, we will add you to our Business supporters list on the website and send you a special Business supporter logo and Certificate of Participation for display.
The All-Ireland Pollinator Plan Business Framework is fully inclusive, allowing any business to sign up to take actions for pollinators. However, registration does not equate to endorsement of products or services by the All-Ireland Pollinator Plan. 
3.  Use the flow chart on pages 4-6 to decide what pollinator-friendly actions are right for your company.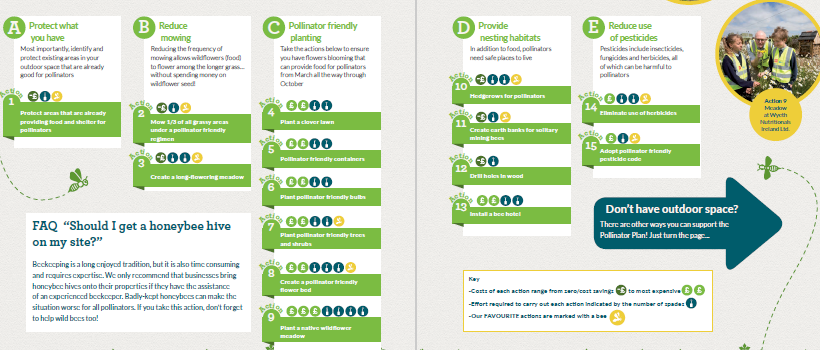 4.  Sign Up to 'Actions for Pollinators', our online mapping system to register your site and gain recognition for becoming a Business Supporter and your future pollinator-friendly actions, so we can see the build-up of pollinator resources in the landscape. PLEASE CONFIRM you have registered on the mapping system when you send your 'Framework for Businesses' form.
https://pollinators.biodiversityireland.ie
Benefits of becoming a Business Supporter of the Pollinator Plan:
A demonstration of your sustainability credentials to consumers and customers
Helping ensure the reliability of supply chains dependent on animal pollinated crops
Flexible options for fulfilling Environmental Management Systems (e.g. ISO 14001:2015)
A framework to support Corporate Social Responsibility objectives
Coordination with Bord Bía's Origin Green programme. Pollinator-friendly actions count towards the 'Biodiversity Element' of Key Target Area, 'Manufacturing Processes'
Suitable for: All employees of any business in Ireland and Northern Ireland.
Go to the List of Business Supporters page for Business Supporters of the All-Ireland Pollinator Plan.
---
OTHER RESOURCES:
Is your outdoor space managed by a contractor? We've created a pollinator-friendly planting code which you can provide to professional contractors or landscapers. It contains extensive planting lists for bedding (annuals, perennials), shrubs and trees, as well as a copy of our Pollinator-friendly Pesticide Code.
Visit our Resources page to find presentations, posters, How-to-guides, and signage templates.
Thanks to Business in the Community Ireland and Bord Bia's Origin Green programme for collaborating on the Business Guidelines.