Sinéad Ní Bhroin, Chairperson of Buncrana Tidy Towns, discusses their 2019 national Local Authority Pollinator Award win
2019 was Buncrana Tidy Towns' best year yet, and hopefully our local bees and bugs feel the same way, too!
Winning the national Tidy Towns Local Authority Pollinator Award for Large Towns was fantastic, not just for our volunteers, but for all those who have driven this project for a number of years now. Special mention must go to our Town Gardener George McDermott; Colm Grant of Wild Inishowen; and local Donegal County Council management.
Buncrana is the sum of all its wonderful parts, and that, of course, includes our beautiful natural environment. Building on previous workplans, our pollinator priorities for 2019/2020 include looking after our dandelions for the town's bees, beetles and other hungry pollinators.
We've looked again at the frequency of our mowing regime, have worked hard to maintain our meadows and we continue to plant new native hedgerows, including Hawthorn and Holly. In these hedgerows, we have added pollinator-friendly trees like Mountain Ash, Crap Apple, Wild Cherry and native Dog Rose. 
Pollinator-friendly planting has been prioritised for our baskets, containers and beds. We are particularly delighted with the town's response to this approach. George McDermott has a great eye when it comes to planting, with a beautiful mix of colours and wildflower design.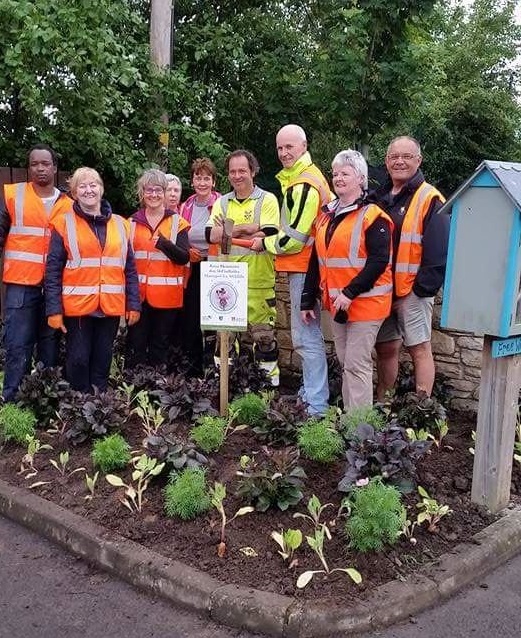 Buncrana Tidy Towns volunteers with town gardener George McDermott at Amazing Grace Park
George McDermott and Karl King at Wild Inishowen's Fort Dunree pollinator patch
Colm Grant providing a Pollinator Plan Workshop at the Mazing Grace Park in Buncrana
Garden Pollinator Award
Buncrana Tidy Towns have expanded our annual garden competition to include a Garden Pollinator Award, which also extends to the businesses' flower displays.
We are also delivering the Pollinator Plan to local school groups and give biodiversity talks to junior school classes in our Amazing Grace Park, which provides some pretty snazzy homes for solitary bees. Scoil Íosagáin deserves a special bualadh bos for its Black Swan Hotel, a particular favourite of visitor bees. The residents of St John's Park have also installed a sand bank for solitary bees in their wildlife and pollinator area.
 We've also learned some great lessons over the last couple of years. Wildflower areas can be difficult to establish but the trick is not to give up!
[Ed's note: we have a blog on this that might be useful!: https://pollinators.ie/reducing-mowing-for-pollinators-brilliant-for-bees-harder-for-humans/]
Reduced mowing sites allow wildflowers such as Dandelions to grow

Profusion of Cuckoo Flowers

 

Buncrana Tidy Towns invested in a piece of land by the new Cockhill Bridge, sowing a pollinator mix of seed and planting native trees and hedgerow.

 

Reducing frequency of mowing and layered mowing allows wildflowers to grow
We invested in a piece of land by our new Cockhill Bridge, sowing a pollinator mix of seed and planting native trees and hedgerow. It took so long for anything to emerge we nearly gave up. Then lo and behold there was a pre-autumnal flourish of clover and cornfield annuals. How fantastic was that!
We also sowed perennials and biennials at the Cockhill site so are hopeful that 2020 will see a greater array of plants take hold.
We have a great range of species planted and think it would be good to share what we think works – Birds-foot-trefoil, Black Meddick, Cowslip, Devil's Bit Scabious, Meadow Buttercup, Field Scabious, Hemp Agrimony, Kidney Vetch, Lady's Bedstraw, Lady's Ann lace, Lesser Knapweed, Meadowsweet, Mullein, Ox-eye Daisy, Purple Loosestrife, Ragged Robin, Red Campion, Red Clover, Ribwort Plantain, Rough Hawksbit, Sorrel, St Johnswort, Wild Angelica, Wild Carrot, Yarrow, Yellow Agrimony, Yellow Rattle and Teasel.
Our work has not been without challenges. Endless wet weather impacts on our grass cutting and the required frequency of what's needed does cause us difficulties. That said, we know that it has to be done, so advise everyone to keep at it as there is a heavy price to be paid for long wet grass.
One final thank you must be extended to the National Biodiversity Data Centre and those working on the All-Ireland Pollinator Plan for providing the leadership, support and structure to groups like ours across the island.  
Ní neart go cur le chéile.
Buncrana won the national large town Pollinator Award at the Tidy Towns awards on September 30th, at the Helix in Dublin, recognising all that has been done by the town to help pollinating insects. Having also won a regional Pollinator Award in 2017, and again in 2018, Buncrana continues to excel in this competition and this year proudly took the top award for most pollinator-friendly large town in Ireland.
---
This article was published in our newsletter on the 2019 Local Authority Pollinator Award.
To read the full newsletter, Click here
---
ABOUT THE TIDY TOWNS LOCAL AUTHORITY POLLINATOR AWARD:
This special award in the Tidy Towns competition encourages Tidy Towns groups to implement pollinator-friendly actions in their town or village, and is open to all groups who enter the National Tidy Towns competition. The Local Authority Pollinator Award, now in its fifth year, has generous cash prizes – now totalling €10,000, and applicants have also increased their points in the overall competition through actions taken for pollinators. 
Local Authority Heritage Officers and Biodiversity Officers initiated and run the award, in partnership with the All-Ireland Pollinator Plan team at the National Biodiversity Data Centre. 
There has been an amazing reaction to this special award since its launch in 2016, and reading about all the achievements and actions taken for pollinators in towns and villages across the country is truly inspirational. Indeed, over 160 individual towns and villages, from every county, have entered the Pollinator Award, and not only that but according to TidyTowns adjudicators upwards of 80% of all 918 TidyTowns groups are implementing actions for pollinators. All entries are filled with wonderful projects, each improving and creating much-needed habitats for pollinating insects and biodiversity generally. 
The All-Ireland Pollinator Plan Project Officer position has been funded by SuperValu in 2020.