Margaret Tallott, Baile Slachtmhar Bhéal an Mhuirthead, Regional winners, North-west and West, 2019, explains how Belmullet are helping to protect Ireland's most endangered bee
Bhéal an Mhuirthead (Belmullet) is situated on an isthmus between Blacksod and Broadhaven Bays in the heart of the Erris Gaeltacht in County Mayo. Belmullet has had an active Tidy Towns Committee dating back to the 1950s. In recent years the committee has made steady progress, gaining one bronze, five silver and two gold medals in the national competition, and winning Gradam na Gaeltachta on three occasions. 
Baile Slachtmhar Bhéal an Mhuirthead have been endeavouring for some years to create an awareness of the wealth of wildlife to be found on our doorstep and in recent years we have become more aware of the importance of bees to pollination, and are concerned about the decline in bee populations. 
The Mullet Peninsula is home to Ireland's rarest bee – the Great Yellow bumblebee (Bombus distinguendus) and is one of very few places in Europe with a sustainable population. Working in conjunction with Mayo County Council and Birdwatch Ireland, we are doing everything we can to show what can be done to help the Great Yellow Bumblebee and other pollinators. 
In Ireland, the Great Yellow Bumblebee was never common, but it was found across the island prior to 1960. It is now confined largely to the Mullet Peninsula
Top left image © Dara Stanley
Following training workshops in 2018, our mentor, Dr Karina Dingerkus, from Giorra Environmental, encouraged us to apply for the National 'Together for Biodiversity Awards 2019'. Our project 'It's all about the Bees and the Seas' aimed to create more awareness of the wealth of biodiversity in our area, and to our delight we won the Small Community Project Award and this win encouraged us to enter the Pollinator Award for the first time in 2019.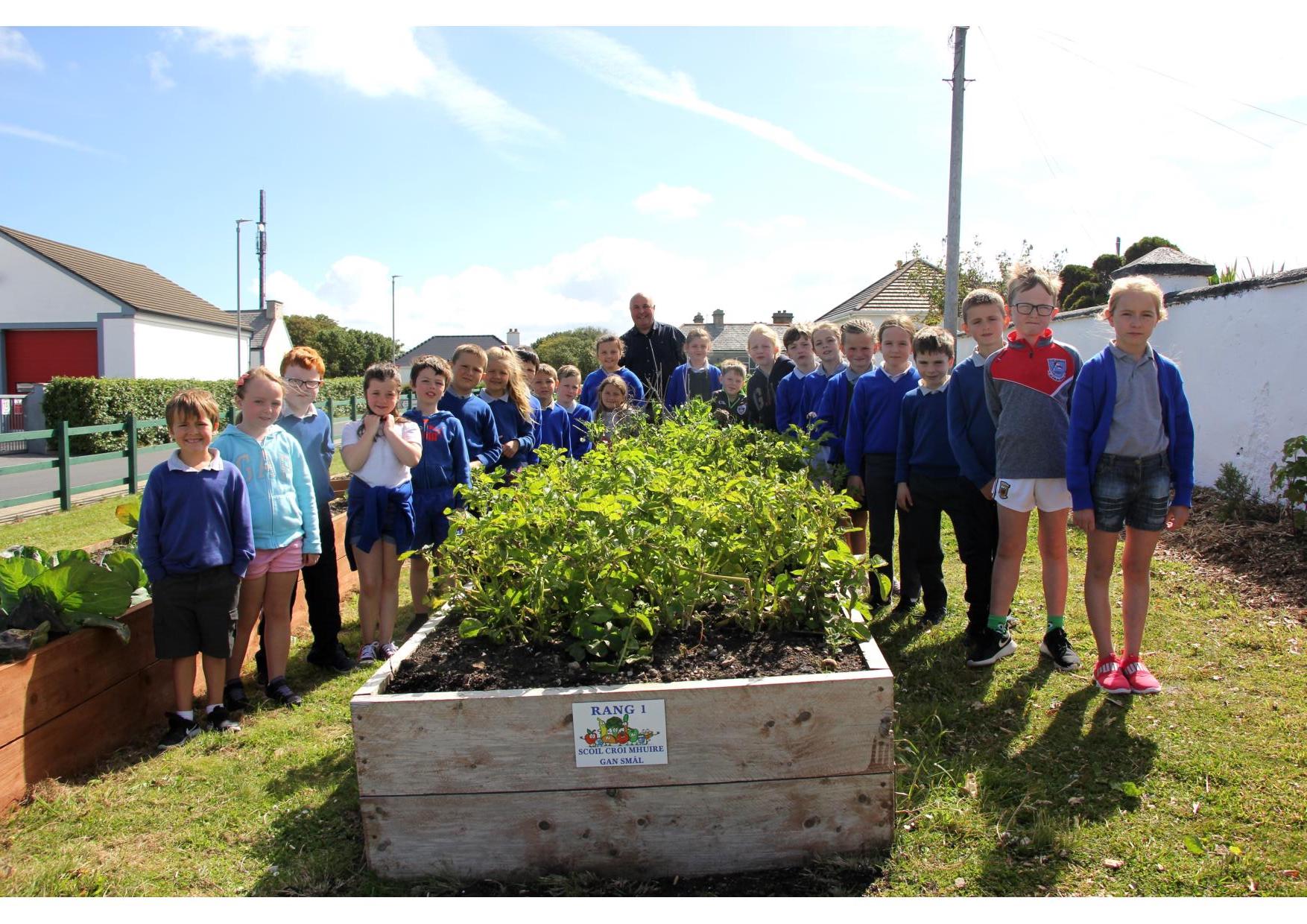 Social Croí Mhuire, Belmullet
The team after their win at the Tidy Towns awards in September 2019 at the Helix in Dublin.
Baile Slachtmhar Bhéal an Mhuirthead Biodiversity Cycle
Drawing on the All-Ireland Pollinator Plan, we first identified 10 sites within Belmullet town that we could maintain under a pollinator-friendly regime. This includes: 
Reduced mowing
Maintaining and planting natural meadows
Planting hedgerows
Planting orchards
Planting spring-flowering bulbs
Creating a herb garden
Constructing bare earth banks, bug hotels and nesting sites for solitary bees
Reduced use of pesticides and other chemicals
Planting an organic food garden
Planting a willow tunnel
Collaborating with Erris Bee Keepers and other community groups
Organising community training
Giving advice and tips through social media
Holding an exhibition of our wildlife photographs
Hosting heritage and nature trails
Engaging with MSLETB to offer ecotourism as an adult education module
| | |
| --- | --- |
| | |
| Willow tunnel | Herb garden |
Having had a really positive response to our 'Bees and Seas' photographic exhibition, the next stage of our biodiversity cycle will include, bringing training to a much wider audience of young people, farmers, gardeners, tourism and accommodation providers, and implementing the recently published guidelines on protecting the Great Yellow Bumblebee. In doing so, we hope to create a more sustainable future for both wildlife and residents in Belmullet and on the Mullet Peninsula, where we are all endangered species!
---
This article was published in our newsletter on the 2019 Local Authority Pollinator Award.
To read the full newsletter, Click here
---
ABOUT THE TIDY TOWNS LOCAL AUTHORITY POLLINATOR AWARD:
This special award in the Tidy Towns competition encourages Tidy Towns groups to implement pollinator-friendly actions in their town or village, and is open to all groups who enter the National Tidy Towns competition. The Local Authority Pollinator Award, now in its fifth year, has generous cash prizes – now totalling €10,000, and applicants have also increased their points in the overall competition through actions taken for pollinators.
Local Authority Heritage Officers and Biodiversity Officers initiated and run the award, in partnership with the All-Ireland Pollinator Plan team at the National Biodiversity Data Centre.
There has been an amazing reaction to this special award since its launch in 2016, and reading about all the achievements and actions taken for pollinators in towns and villages across the country is truly inspirational. Indeed, over 160 individual towns and villages, from every county, have entered the Pollinator Award, and not only that but according to TidyTowns adjudicators upwards of 80% of all 918 TidyTowns groups are implementing actions for pollinators. All entries are filled with wonderful projects, each improving and creating much-needed habitats for pollinating insects and biodiversity generally.
The All-Ireland Pollinator Plan Project Officer position has been funded by SuperValu in 2020.