Our Team
Dr Úna FitzPatrick- Project Manager
Úna has worked as a Senior Ecologist within the National Biodiversity Data Centre since 2007. In 2015, she co-founded the All-Ireland Pollinator Plan with Prof Jane Stout and is the Chair of the Steering Group. She project manages the implementation of the Plan. Úna also manages various other initiatives within the Data Centre, including the national pollinator databases, the All-Ireland Bumblebee Monitoring Scheme, Flower-Insect Timed Counts, the Rare Plant Monitoring Scheme and the National Vegetation Database.
Kate Chandler – Communities & Engagement Project Officer
Kate started as Communities and Engagement Pollinator Officer in 2022 to support and oversee the local authority and local community actions in the All-Ireland Pollinator Plan. Kate has a background in community engagement and event programming and has worked and volunteered in the heritage and conservation sector in Ireland and the UK.  
This All-Ireland Pollinator Plan Project Officer position has been funded by the National Parks and Wildlife Service.
Ruth Wilson – Farmland Pollinator Officer
Ruth started as a Farmland Pollinator Officer in 2021 to assist in the implementation of the farmland actions of the All-Ireland Pollinator Plan. Ruth grew up on a mixed farm in Co. Antrim, which led her to study horticulture, then land and environmental management. Ruth has over 20 years' experience working in local biodiversity planning and nature conservation with local government and non-government conservation organisations.
This All-Ireland Pollinator Plan Farmland Officer position has been funded by the Department of Agriculture, Food and the Marine.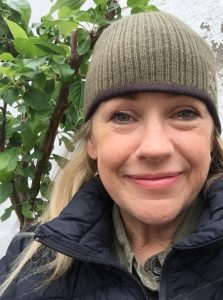 Sarah Kelly – Agri-Business Officer

Sarah has joined the team as Agri-Business Officer to assist in the implementation of the All-Ireland Pollinator Plan actions related to businesses, specifically, though not exclusively, Origin Green companies. Sarah's experience ranges from running all island business development projects for the Northern Ireland Chamber of Commerce, to running her own B2B consultancy supporting companies through marketing research and sales lead development, to managing a cross-border capital project to establish Catalyst Inc. Ltd. (formerly the Northern Ireland Science Park) in the North-West of the island and more recently on the production side of things in the TV industry.
The All-Ireland Pollinator Plan Agri-Business Officer position is part funded by Bord Bia and the Business for Biodiversity Ireland (BFBI) platform.